Posts Tagged: climate change
Reposted from UCANR News
California Secretary of Agriculture Karen Ross and UC Agriculture and Natural Resources vice president Glenda Humiston signed a memorandum of understanding in Sacramento Oct. 26 to initiate a new partnership to advance climate-smart agriculture in California.
This partnership will provide $1.1 million to hire 10 UC Cooperative Extension community education specialists who will be deployed to 10 counties statewide to assist and encourage farmers to participate in CDFA programs aimed at increasing adoption of smart farming and ranching practices.
"Agriculture is an important part of the climate solution," Ross said. "This funding enables CDFA and UC ANR to partner with farmers to scale-up climate smart agricultural practices."
The new program is funded by California Climate Investments dollars through the Strategic Growth Council (SGC),
"Farmers and ranchers are key to carbon sequestration and a sustainable California," said SGC chair Ken Alex. "The Strategic Growth Council is pleased to fund this partnership for smart agricultural practices."
The partnership is focused on implementing on-farm solutions to improve soil health, nutrient management, irrigation management, on-farm composting and manure management – smart farming practices that reduce greenhouse gas emissions into the atmosphere.
The CDFA programs involved are:
"This new joint effort reflects our commitment to extending research-supported solutions to our farming community so they have the information and tools they need to make climate-smart decisions," Humiston said. "It also demonstrates our shared goal of promoting new practices that are grounded in science."
The 10 new education specialists will serve in Mendocino, Glenn, Yolo, San Joaquin, Merced, Kern, Imperial, San Diego, San Luis Obispo and Santa Cruz counties.
Three UCCE advisors will mentor and assist the new educators: water quality and management advisor Laurent Ahiablame, based in San Diego County; area dairy advisor Betsy Karle, based in Glenn County; and irrigation and cotton advisor Dan Munk, based in Fresno County.
In addition to working with the new educators, the UCCE advisors conduct research on farming and ranching practices that boost efficiency and protect the climate, therefore serving as a conduit between discovery and implementation.
"This is a great opportunity to really support growers find the right balance between food production and effective management of natural resources," Ahiablame said. "With the 10 community education specialists we will be one step closer to the producers across the state. I look forward to the opportunity to mentor these specialists, who in turn will be making direct impacts on the community."
Karle said she was interested in participating in the program as a way to encourage dairy operators to try practices they are interested in but consider too costly.
"I've worked here locally with dairy producers who wanted to implement practices but need financial assistance in order to make it feasible," Karle said. "They need assistance in the grant application process and technical support to make changes on their farms."
Doug Parker, director of the UC California Institute for Water Resources, is the UC ANR point of contact and liaison with CDFA. To contact Parker, email doug.parker@ucop.edu.
Reposted from the UCANR News
Berkeley — With a body the size of a fist and wings that span more than a foot, the big brown bat must gorge on 6,000 to 8,000 bugs a night to maintain its stature. This mighty appetite can be a boon to farmers battling crop-eating pests.
But few types of bats live on American farms. That's because the current practice of monoculture – dedicating large swathes of land to a single crop – doesn't give the bats many places to land or to nest.
Diversifying working lands – including farmland, rangeland and forests – may be key to preserving biodiversity in the face of climate change, says a new review paper published this week in Science by conservation biologists at the University of California, Berkeley.
Diversification could be as simple as adding trees or hedgerows along the edges of fields, giving animals like birds, bats and insects places to live, or as complex as incorporating a patchwork of fields, orchards, pasture and flowers into a single working farm.
These changes could extend the habitat of critters like bats, but also much larger creatures like bears, elk and other wildlife, outside the boundaries of parks and other protected areas, while creating more sustainable, and potentially more productive, working lands.
"Protected areas are extremely important, but we can't rely on those on their own to prevent the pending sixth mass extinction," said study co-author Adina Merenlender, a UC Cooperative Extension Specialist in the Department of Environmental Science, Policy and Management at UC Berkeley. "This is even more true in the face of climate change, because species will need to move around to adapt to shifts in temperature and climate."
A win-win for wildlife and for farms
Maintaining even small pieces of the original landscape – even a single tree– can help conserve the original diversity of species, Merenlender said. Clearing oak woodlands and shrublands to establish large vineyards hits many native species hard. Animals that are well adapted to urban and agricultural areas, such as mockingbirds, house finches and free-tail bats, continue to flourish, while animals that are more sensitive to disturbance, like acorn woodpeckers, orange-crowned warblers and big brown bats, begin to drop away. "If you can leave shrubs, trees and flowering plants, the habitat suitability -- not just for sensitive birds but also for other vertebrates – goes way up," Merenlender said. This is true not only in California's vineyards, but on working lands around the world.
Incorporating natural vegetation makes the farm more hospitable to more creatures, while reducing the use of environmentally degrading chemicals like herbicides, pesticides and man-made fertilizer.
The ideal farming landscape includes woodland pastures and vegetable plots bumping up against orchards and small fields, said Claire Kremen, a professor in the Department of Environmental Science, Policy and Management. Integrating livestock produces manure which can fertilize the crops, while those same crops produce feed for livestock. Birds and bats provide pest control, and bees boost crop production by pollinating plants.
"It is possible for these working landscapes to support biodiversity but also be productive and profitable," Kremen said. "And ultimately, this is where we have to go. We just can't keep mining our soils for their fertility and polluting our streams – in the end, this will diminish our capacity to continue producing the food that we need. Instead, we must pay attention to the species, from microbes to mammals, that supply us with critical services, like pollination, pest control and nutrient cycling"
"We have some amazing diversified farms, sustainably managed forests and species-rich rangelands here in California that exemplify working lands for conservation around the world," Merenlender said. "We are calling for a scaling up of this approach around the world, and to do that we champion community-based action and more supportive polices" Kremen concludes.
Reprinted from UCANR News
The news that Americans are getting about California's devasting fires is not being hyped up by the media, said UC Cooperative Extension area fire advisor Lenya Quinn-Davidson on the nationally broadcast NPR program On Point.
Host Eric Westervelt of WBUR in Boston got a Northern California perspective from Quinn-Davidson, who works with communities in Siskiyou, Trinity and Mendocino counties on managing the threat of wildfires and is the Northern California coordinator of the California Fire Science Consortium.
"I definitely don't think the situation is being hyped up," Quinn-Davidson said. "I'm in Ukiah and there's a thick blanket of smoke. Everyone can feel the tension of the Mendocino Complex Fire."
Quinn-Davidson said she grew up in the vicinity and, back then, major fires like those burning today only happened every few years. Lately, such super fire seasons are happening every year. She said it's time for Californians to take a different approach when thinking about fire.
"Fire is the only natural disaster that we fight against," Quinn-Davidson said. "With hurricanes and earthquakes, we adapt and try to identify vulnerabilities and change our behavior. We haven't treated fire like that. We need to learn how to adapt and make changes that make us more resilient to fire."
On Point is NPR's only call-in program. One caller asked whether climate change has reached an irreversible tipping point at which little can be done to reverse the damage that is causing extreme flooding, heat, hurricanes and wildfires.
Quinn-Davidson said she offers hope to the people in communities she serves.
"They're not powerless," she said. "I don't want people to feel that we are beyond some tipping point and they should just throw in the towel. I think we need to feel empowered to make the changes we can make - whether on a personal scale, at at the mid-grade community scale, or if it is taking political action to make larger change ... We still have some place to make a difference. I really believe that."
Michael Mann, professor of atmospheric science and director of the Earth System Science Center at Pennsylvania State University, was also a guest on the On Point program. He said that, as a nation, we may have breached a different tipping point - a tipping point in public consciousness. Recent news reports have informed the public about extreme flooding in Japan, record-breaking heat in Europe and catastrophic wildfires in California.
"This summer has made a difference in the public perception of how profound the threat of climate change already is," Mann said. "And I like to think that when they go to the voting booths in less than 100 days, they're going to be thinking about climate change and the need to act on this problem. I think we will see progress."
Many common street trees now growing in the interior of California are unlikely to persist in the warmer climate expected in 2099, according to research published in the July 2018 issue of the journal Urban Forestry & Urban Greening.
"Urban foresters in inland cities of California should begin reconsidering their palettes of common street trees to prepare for warmer conditions expected in 2099 due to climate change," said the study's co-author, Igor Lacan, UC Cooperative Extension environmental horticulture advisor in the Bay Area.
Common trees in Coastal California cities appear to be better suited to withstand the 2099 climate.
"Our research shows that some trees now lining the streets of cities like Fresno, Stockton and Ukiah are likely to perform poorly in 2099," Lacan said. "Those cities need to look at the conditions – and trees – now found in El Centro, Barstow and Fresno respectively."
To reach these conclusions, Lacan and co-author, professor Joe McBride of UC Berkeley, used space-for-time substitution. They compared the most common street tree species in cities representing each of the 16 California climate zones with trees in cities that currently have climates that approximate the expected warmer conditions in the 16 cities 80 years from now.
For example, Eureka can expect a climate like Berkeley's today; Fresno's climate will resemble the climate of El Centro today. (Find the complete list of cities below.) The corresponding cities were determined with climate predictions from Cal-Adapt, which synthesizes California climate change scenarios to reach a consensus view of the magnitude of climatic warming.
"We used the mid-range models," Lacan said. "It's very reasonable to say the warming predicted by the model we used is already 'baked in,' regardless of any mitigation efforts. While we should take measures to prevent even greater warming – mostly by reducing the use of fossil fuels – this study aims to help adapt California urban forests to the warming that can be reasonably expected to occur."
Lacan said he and McBride were surprised to find that coastal cities and their warm equivalents contain most of the same common urban tree species, while the warm equivalents of inland cities seemed to lack most and, in some cases, all of the common trees there today.
"It's really a sharp distinction," Lacan said. "Perhaps they were lucky, but coastal cities are better positioned for the climate of 2099 than the inland cities."
Climate zone

City

Corresponding city
(approximates climate
in 2099)

1

Eureka

Berkeley

2

Ukiah

Fresno

3

Berkeley

Santa Ana

4

King City

Stockton

5

Santa Maria

Santa Ana

6

Santa Monica

King City

7

San Diego

Santa Ana

8

Santa Ana

Burbank

9

Burbank

Fresno

10

Riverside

Barstow

11

Yuba City

El Centro

12

Stockton

Barstow

13

Fresno

El Centro

14

Barstow

El Centro

15

El Centro

Furnace Creek

16

Susanville

Barstow
For a copy of the complete research report email Igor Lacan, ilacan@ucanr.edu.
Reposted from the University of California newsroom
Just how far apart are Republicans and Democrats when it comes to views on climate change? Not all that far, as it turns out. They're just too party-focused to notice.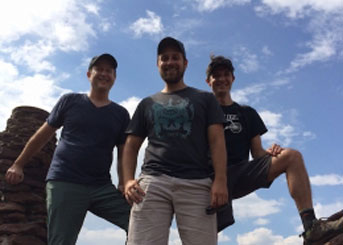 That's according to scientists from UC Santa Barbara and the University of Colorado Boulder in new research just published in the journal Perspectives on Psychological Science.
Surveying 2,000 adults, the research team found that, across party lines, there is general agreement that climate change is real, that it is caused by human activity and that something should be done to mitigate it.
The study further reveals that people are more likely to support the same climate policy proposal when they think that their own political party supports it — and that both Democrats and Republicans overestimate how much their peers oppose the ideas of the other party.
"Democratic and Republican citizens alike evaluate a carbon tax or cap and trade policy based on who proposed it — above and beyond their thoughts on the details of the policy, or on whether it is consistent with their beliefs about the importance of climate change," said David Sherman, a UC Santa Barbara professor of psychological and brain sciences and senior author on the paper. "They do this despite stating themselves that policy considerations should be more important than partisanship."
Added lead author Leaf Van Boven, a psychology and neuroscience professor at CU Boulder, "We found that people routinely place party over policy and disagree for the sake of disagreeing."
Disagreeing for the sake of disagreement
For their project, Sherman, Van Boven and Phil Ehret, who just completed his Ph.D. in social psychology at UC Santa Barbara, set out to explore the psychological reasons that — despite warnings about economic, social and humanitarian impacts of climate change — U.S. lawmakers have yet to enact a national policy.
Previous studies and conventional wisdom suggested this was primarily because most Republicans are skeptical of climate change.
So the researchers conducted two studies in 2014 and 2016 with diverse national panels of over 2,000 U.S. adults, asking: Is climate change happening? Does it pose a risk to humans? Is human activity responsible? And can reducing greenhouse gas emissions reduce climate change?
Sixty-six percent of Republicans, 74 percent of Independents and 90 percent of Democrats said they believed in human-caused climate change and the utility of reducing greenhouse gases.
"Just before the presidential election when most Republicans were voting for Trump, who characterized climate change as a 'hoax,' they nevertheless expressed a belief in climate change," noted Van Boven.
Policy is nearly irrelevant
As part of the 2014 study, the researchers showed participants one of two proposed policies. One was a cap-and-trade policy that historically has been championed by Democrats. The other was a revenue-neutral carbon tax based on policies recently advocated by Republicans. Participants were told that 95 percent of Republicans and 10 percent of Democrats supported the policy, or vice versa.
Regardless of the content, Democrats supported policies from Democrats more strongly, and Republicans supported policies from Republicans more strongly. "If you want to know who will support a climate policy, just look at which political party supports it," Ehret said. "Climate change belief alone is not the whole story."
In a related study of 500 people, co-authored by the same researchers and published in Social Psychological and Personality Science, the authors used actual language from a proposed climate change policy that was part of ballot initiative I-732 in Washington State in 2016.
The researchers highlighted either Democrats or Republicans who genuinely supported or opposed the policy to the study volunteers and found similar results.
"What is more, people anticipate that others, their fellow Republican and Democratic citizens will be even more polarized and influenced by political party than they actually are," Sherman said. "This creates a false norm of consensus and unanimity within each party that, for example, other Republicans will reject any policy proposed by Democrats. This perception of within-party unanimity makes it very difficult to cross party lines."
In a unique contribution of their paper, the researchers also interviewed four retired members of Congress who have worked on environmental issues: Mickey Edwards, R-Okla., Robert Inglis, R-S.C., David Skaggs, D-Colo., and Tim Wirth, D-Colo. All four reported that as climate change became closely associated with Democrats, Republican disagreement increased.
"If you were interested in supporting climate change, that meant you were interested in supporting Al Gore," Wirth told the researchers. In his interview, Edwards said, "Nobody wants to be an outlier — nobody."
This distrust of the other side, combined with a false assumption that the two parties sharply disagree has made it difficult for good, bipartisan ideas to gain traction, according to the researchers.
"One of the foundational insights of social psychology is the under-appreciated influence of social norms and that actions are determined more by perceptions of norms than the actual norms," Sherman said. "It is crucially important for lawmakers and voters alike to be informed about what others actually think about environmental issues such as climate change.
"There are many reasons the media focuses on differences between partisans," he added, "but our work shows why it is important to highlight this strong consensus as well as the even stronger consensus that citizens should evaluate policies on their details and impact and ability to address problems, and not based on which party proposes them."
/h3>/h3>