Posts Tagged: wildfire
Reposted from the California Water Blog
Now that summer is over and rain has returned to California, it appears that the dramatic 2017 fire season is finally behind us. The effects of fire season can linger, however, with the possibilities of erosion and polluted runoff from burned areas. Napa County has even issued suggestions for how to protect waterways in burned landscapes.
Not all news is bad when it comes to the interactions between fire and water, however. These two seemingly opposite elements can actually work in tandem under the right circumstances, to the benefit of people as well as the environment.
While the North Bay fires were filling the headlines in October, another fire 200 miles away was quietly entering its third month of burning in the Sierra Nevada wilderness. This other fire, known as the Empire Fire, was ignited by lightning. By allowing this fire to slowly burn, the park service allowed natural processes to remove fuels that could otherwise build up and lead to more dangerous fires in the future.
The Empire fire burned through an area in Yosemite where fires have been allowed to burn for over 40 years, the longest period managed with such a strategy anywhere in California. Research in Yosemite and other areas shows that allowing these wilderness fires to burn can increase the amount of water stored in the soil or flowing downstream. In the winter, forest clearings opened up by fires often store deeper snow that melts later than in densely forested areas, meaning more water is released slowly in the spring and summer rather than all rushing out as floods in the winter.
Fires can also open up meadow areas that have been overgrown by forest. Although wet meadows cover only a small percentage of California's landscape, they provide important benefits to the water supply. Meadows reduce the size of floods by storing water during high runoff periods. They also help to store water for the dry summer months by holding that water like sponges and slowly releasing it.
The biggest news about fire and water, unfortunately, is usually about how burned landscapes contribute to erosion, which then pollutes streams and clogs reservoirs. When fires burn homes, pollution risks can be especially high due to the presence of hazardous chemicals. Fires can also lead to larger floods since there is less vegetation to slow water's path from rainfall to stream runoff.
These negative effects, however, usually happen because a large portion of a watershed has been completely stripped of vegetation, and plants have not been able to re-grow in time to stabilize the soil. These kinds of fires are usually caused by a combination of dense fuels and extreme weather. When fires burn under less extreme conditions (lower fuel loads, high humidity, low temperatures, and/or low wind speeds), they can clear out dead fuels and remove a small number of trees while leaving most large trees intact. After the fire, the remaining trees (as well as new growth of understory plants) often enjoy wetter soils and less competition. This increases the ability of plants to survive drought conditions.
Wildfire has always been a part of California – especially northern California and the Sierra Nevada – for as long as it has had lush vegetation and dry summers. Native Californian plants have adapted to this process. Some species, like redwoods, even depend on fire for regeneration. Native Californian people historically used fire as a tool to promote the growth of desired plants.
In the early 1900s, however, those in charge came to what seemed to be a very logical decision: to protect our homes and forests from fire, we should put out all fires as quickly as possible. Although this policy was initially very successful, a century later we have flammable forests with heavy fuel loads, as well as densely packed trees that send large amounts of water into the air through their leaves rather than allowing it to flow downstream or remain underground to be used during droughts.
Large public land managers such as the National Park Service and U.S. Forest Service have lately been shifting away from the strategy of suppressing every single fire. Instead, lightning-ignited fires that are burning under acceptable conditions (not too windy, not too close to infrastructure, etc.) are allowed to burn and perform their natural functions of clearing fuels and thinning forests to sustainable tree densities. Prescribed fires and mechanical thinning are also used in situations where greater control is required to reduce risk.
In this way, letting some fires burn today can prevent catastrophic fires from burning through dense fuel in the future. Preventing such catastrophic fires removes their threat to the water supply – as well as the potentially devastating human losses, as we saw from the Atlas, Tubbs, Nuns, and other fires this year. Increased streamflow, snowpack, and drought resistance in burned watersheds all add to this increased water security. The water benefits of more natural forests are receiving increased attention lately, with some companies even working to set up markets for downstream water users to pay for upstream forest care.
We cannot prevent all wildfires in California. However, by understanding their role in our natural systems and incorporating them into our land management, we can benefit from them.
Gabrielle Boisramé has a PhD in environmental engineering from U.C. Berkeley, where she studied the effects of wildfire on water balance in the Sierra Nevada with Prof. Sally Thompson. She continued this work as a post-doctoral scholar with Prof. Scott Stephens, also at U.C. Berkeley.
Further reading
Boisramé, Gabrielle, S. Thompson, B. Collins, and S. Stephens. "Managed wildfire effects on forest resilience and water in the Sierra Nevada."
Lundquist, J. D., S. E. Dickerson-Lange, J. A. Lutz, and N. C. Cristea. Lower forest density enhances snow retention in regions with warmer winters: A global framework developed from plot-scale observations and modeling.
Neary, D., K. C. Ryan, and L. F. DeBano. Wildland fire in ecosystems: Effects of fire on soil and water.
van Wagtendonk, J. W. The history and evolution of wildland fire use.
Reposted from California Magazine
Santa Rosa and Sonoma County officials are now in the post mortem phase of the North Bay fire storms, asking what could've been done to avoid the tragedy and what can be done in the future to prevent similar conflagrations. Discussions largely have focused on tighter zoning and fire ordinances. Those are appropriate areas to focus on, say many wildfire experts, but municipalities and counties inevitably face pressures that make effective wildfire risk reduction difficult.
"As things stand, cities and municipal or regional agencies — like the East Bay Regional Park District or the East Bay Municipal Utility District — are responsible for dealing with fuel buildup and other potential fire safety issues," says Joe McBride, a UC Berkeley professor emeritus of landscape architecture and environmental planning. "Cites particularly are supposed to do annual inspections, notify people if there's a problem, and then take enforcement actions, including hiring contractors to do clean-up work and billing the homeowner. But people get resentful when local authorities try to vigorously enforce safety regulations. They bring their own pressures to bear, and then necessary things simply aren't done."
Scott Stephens, a professor of environmental science, policy, and management at Cal, also believes city officials are often unable or unwilling to enforce strict fire ordinance options. The incentive for city council members and county supervisors is to encourage development and expand tax bases, Stephens says. As a result, homes are often built in wild land "interface" areas with extreme fire risk, such as the scorched Fountaingrove complex in Santa Rosa, and fire safety measures are either minimized or ignored altogether.
As Santa Rosa newspaper columnist and Sonoma County historian Gaye LeBaron has written, the Tubbs Fire that ravaged Santa Rosa could've been predicted; in 1964, another wildfire followed almost the exact same path. But that earlier fire burned mostly forest and agricultural land. Fountaingrove's pricey developments weren't put in until the 1990s, rammed through by local officials anxious for the tax revenues, and in apparent violation of an ordinance that proscribed development on ridge tops overlooking the Santa Rosa Valley.
Along with mushrooming development, ongoing climate change is resulting in hotter, drier, and longer fire seasons, affecting wildfire behavior in unexpected and catastrophic ways. That was evident in the Santa Rosa fires with the destruction of Coffey Park, a large tract of middle-class homes in western Santa Rosa far from any forested areas.
"Coffey Park was a huge surprise for me," says Stephens. "I've never seen anything like it, and I had never expected to see anything like it. But you had this terrible confluence of events. Incredibly powerful, dry winds swept down eastward-facing canyons, and threw burning embers west clear across the Highway 101 corridor into Coffey Park, where they ignited dry leaves and other fuels. Now that we know these kinds of scenarios can play out, we need to prepare for them."
How? McBride believes that it would be wise to divest cities of some of their regulatory authority and place it with the state. State agencies, he observes, are largely immune to both the blandishments and intimidation of local development bigwigs and are motivated by larger issues than municipal and county tax bases. He points to the California Coastal Commission as a promising template. Prior to the Coastal Commission's formation in 1972, development pressures along the state's incomparably beautiful coastline were increasing dramatically. It seemed certain that California's future would include a solid wall of strip malls and gimcrack bungalow developments from Crescent City to San Diego.
"Before the Coastal Commission was authorized, each coastal city planned for its own best interests in terms of zoning, and those interests weren't necessarily aligned with coastal preservation or access," says McBride. "Once the commission started overseeing things, though, we got much better zoning and oversight of the coast. Most of the coast is now preserved. We avoided the 'Miamification' of California that otherwise would've been inevitable. A similar agency for wildfire regulations and enforcement – essentially a California Fire Commission – might make similar progress in community fire protection in terms of zoning and enforcing clean-up and defensible space requirements."
Stephens agrees with McBride that state authority is likely to be more effective than local agencies in establishing and enforcing effective fire regulations, and suggests that the University of California could also play a role.
"We have to educate as well as enforce, and in fact, education and cooperation at the community level may be the best way to accomplish fire safety goals," Stephens says. "One of the tragic things about the Santa Rosa fires is that most of the fatalities were older people: 60 and older. People in neighborhoods in fire-vulnerable areas should meet regularly to identify older neighbors who may need help in evacuating, identify escape routes for different scenarios, and discuss risk reduction measures they could take."
As far as Cal goes, continues Stephens, "UC Cooperative Extension [under the university's Division of Agriculture and Natural Resources] maintains [agricultural and conservation] programs in every California county, so we already have a network of educators and communicators. We could coordinate with state agencies and the governor to create and implement wildfire safety and response programs that could be very effective. And because the basic structure is already in place, it wouldn't be very expensive."
Both Stephens and McBride think certain types of ornamental trees should be minimized — even eliminated — from the urban landscape. Grasslands and native oak savannas burn readily, says McBride, but at a low intensity; grass fires can usually be countered relatively easily by firefighters. But some exotic trees, particularly eucalyptus and Monterey pine, are impregnated with oils and resins that burn explosively, often producing flame lengths of 200 feet or more and creating "spot" fires miles from primary blazes, making effective firefighting impossible.
"We really need to look at changing the landscape [in suburban and urban areas]," McBride says, "and that includes banning eucalyptus and other problematic trees as much as possible."
McBride says some communities are approaching fire risk in a progressive and effective way, and they should be emulated.
"Landscaping at Sea Ranch [on the Sonoma Coast] largely consists of native grassland and prairie, and that provides a lot of security for the homes," says McBride. "They also plow firebreaks throughout the development every year. They do have stands of native bishop pine, which burns with high intensity, but they prune and thin them to break up the fuel ladders, and that minimizes fire risk."
The homes at Sea Ranch are modeled on the old barns of the ranchers who originally settled the Sonoma Coast, another factor that reduces fire risk, observes McBride.
"They don't have eves or roof overhangs, which is a very wise design feature in wildfire-prone areas," says McBride. "Overhangs trap burning cinders driven by the wind, and encourage fires either on roofs and walls or in attics."
Indeed, says McBride, modern architects and urban planners can learn about a lot about minimizing fire risk by studying some of the historic structures from California's past.
"Windows are a big entry point for heat," says McBride. "In fact, heat from wildfires can transfer directly through windows and ignite walls opposite the windows without the glass breaking. When you go through the old Gold Rush towns in the Sierra, you see these stone buildings with big iron shutters that could be closed over the windows. That was a fire prevention strategy, and it was very effective. We don't need to make shutters from heavy iron sheets, of course, but we could certainly design shutters from modern materials for the large plate glass windows that are so popular in modern homes. The [Forty-Niners] really understood the risks of wildfires, and they designed their buildings with fires in mind. We need to do the same thing."
Reposted from the UCANR Green Blog
It's Deja Vu all over again
- Yogi Berra
Once again I'm asked to provide some perspective on yet another catastrophic situation affecting the North Coast. In 2015, it was the Valley Fire. In 2016, it was the Clayton Fire. This year there are so many fires I'm having difficulty recalling their names...14 at last count.
The cause for these 2017 conflagrations will be apparent once the elements of the fires are assessed. Tornadic winds hitting 50 mph Sunday, October 8, will most likely have started most if not all. Winds of this intensity can ignite fires by impacting electrical infrastructure by breaking lines and causing transformers to explode. The cause of the fires will come out in time. Thick stands of vegetation, the result of mid-20th century land management practices, years of fire suppression, homes built in rural locations in steep terrain, old legacy roads too small to accommodate modern fire-fighting equipment, and exurban development without the necessary resources to address fire prevention. All this leads to almost impossible conditions to arrest a fire being pushed by wind.
I would argue there is no better fire-fighting force in the world than those found in California. What these men and women do is nothing short of extraordinary. But they are faced with an impossible task in the absence of an equally focused program of fire prevention.
What have I learned from Lake County as a result of the Valley and Clayton fires?
The Lake County fires have provided insights that can help with the recovery and reconstruction of the most recent events. Specifically, resources must be secured to assist landowners and communities in better incorporating fire resilience into local rural and suburban planning and projects, to prepare for the eventuality of another fire by creating and maintaining conditions that allow the fire to be controlled before getting out of hand. Admittedly, the recent fires were wind-driven events that became uncontrollable. However, these fires are the exception to the rule. There are hundreds of fires a year in California that are quickly controlled and extinguished. Fire resiliency must incorporate plans and projects that can address less catastrophic conditions, in the hopes of arresting a fire before it becomes a conflagration.
Other aspects for communities to consider when addressing fire resiliency may include fire-fighting equipment scaled to accommodate old, rural roads, resources to retrofit old roads to accommodate evacuees and first responders, and rural lands with poor or non-existent internet service need to re-establish fire sirens to alert residents of impending danger. Local statutes need to establish and enforce vegetation management standards on absentee parcels. And, finally, a sustained dialogue addressing fire resiliency must be incorporated into all land-use planning discussions to help landowners recognize and implement actions to help reduce the risk of catastrophic fire.
None of this will be easy or inexpensive. But neither is fighting hundreds of thousand acres of wildland fires every year.
Admittedly, the weather conditions responsible for these fires may negate the best plans and efforts. But again, those conditions are the exception to the rule.
For every acre burned this year there are ten more, in the same condition, that didn't, providing next year's opportunity for a conflagration. The road forward to address California's wildland fire threat is long, and full of twists and turns. But as with all long journeys, each begins with the first step.
Greg Giusti is a UC Cooperative Extension advisor emeritus specializing in forests and wildlands ecology.
Reposted from UCANR News
Preventing embers from getting inside may save homes
Photos and video of the Northern California communities that have been hit by wildfires this week show buildings reduced to ash. How could so many homes and businesses burn so quickly in Wine Country fires? Many houses that burned to the ground in the Northern California fires likely burned from the inside out, says Yana Valachovic, UC Cooperative Extension forest advisor for Humboldt and Del Norte counties.
Red hot embers carried on the wind can enter the attic via the venting. "In the case of the wind-driven fires on October 8, these fires created ember storms that blasted little coals into everything in their pathway," Valachovic said. These embers also create small spot fires near the home that fuel new sources of embers.
Weather played a large role in these fires and generated a fire storm of embers that ignited grass, shrubs, trees and anything in its path. "While the landscape can be the fuse, the homes really can be the most burnable part of the landscape," Valachovic said. "These embers likely lodged in the small spaces and openings of homes and buildings. A common location is for the embers to enter via attic venting or HVAC systems distributing little fires into the buildings.
"Embers also landed on receptive leaves, outside furniture, and other flammable materials outside the buildings that created fires adjacent to the buildings. Once enough buildings were engulfed in fire, the radiant heat of each building fire led to exposures on the neighboring buildings, creating a house-to-house burn environment."
Residents can reduce the risk of embers setting their house on fire by removing dry plants around the structure.
"These fires remind us that everyone in California could help the fire situation by managing the vegetation, leaves in the gutters and decks, newspaper piles, brooms and other flammable sources near to their houses now before they get the evacuation call," Valachovic said. "If you are likely to have to evacuate soon, temporarily covering or sealing up the vents with metal tape or plywood can help harden your home to an ember storm."
Steve Quarles, UC Cooperative Extension advisor emeritus, who spent his career studying fire behavior on building materials and around homes, created an online Homeowner's Wildfire Mitigation Guide at http://ucanr.edu/sites/Wildfire. Quarles, who now does research for the Insurance Institute for Business and Home Safety, demonstrates how embers can ignite and quickly engulf a house in flames in a video https://www.youtube.com/watch?v=IvbNOPSYyss. After the 3-minute mark, video shows embers drifting up and flying through a screened vent into the house, where they could ignite combustible materials in the attic resulting in fire starting on the inside of the home.
"If you have time to prepare your home, use the wildfire last-minute check list at http://disastersafety.org/wp-content/uploads/2016/07/IBHS-Wildfire-Last-Minute-Checklist.pdf," Valachovic said.
Valachovic has co-authored publications in home survival in wildfire prone areas http://anrcatalog.ucanr.edu/pdf/8393.pdf and how landscape plants near homes can create more vulnerability to wildfire http://anrcatalog.ucanr.edu/pdf/8228.pdf.
Once these fires are extinguished, a more detailed analysis will be possible.
"Past wildfire events have shown that this is the common way homes in the wildland urban interface (WUI) burn, and this scenario was likely translated to the urban environment," she said.
Reposted from UC Merced News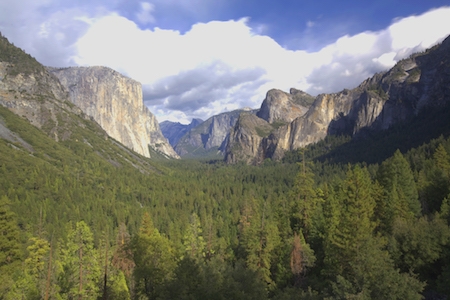 Yosemite Valley in the western Sierra Nevada Mountains.
What if nature were to become a polluter, discharging millions of tons of planet-warming carbon into the atmosphere in much the same way as diesel-fueled trucks or coal-fired power plants?
This nature-as-polluter scenario might seem far-fetched, but it's well on its way to becoming reality, according to a recent study co-authored by UC Merced Professor LeRoy Westerling.
In a paper published recently in Scientific Reports Opens a New Window.— "Potential decline in carbon carrying capacity under projected climate-wildfire interactions in the Sierra Nevada" — Westerling and collaborators from the University of New Mexico and Penn State University used three climate models and data from the Intergovernmental Panel on Climate Change to examine how rising global temperatures and increasingly severe wildfires will affect Sierra Nevada forests.
Their conclusion: Changing conditions will turn today's Sierra Nevada forests into tomorrow's greenhouse gas emitters.
"Forests play an important part in regulating the levels of atmospheric carbon," Westerling explained. "Forests are carbon sinks, essentially giant stockpiles of carbon. Forests are also active carbon consumers. They remove carbon dioxide from the air and convert it into biomass. This traps the carbon, which is no longer free to act as a greenhouse gas in Earth's atmosphere."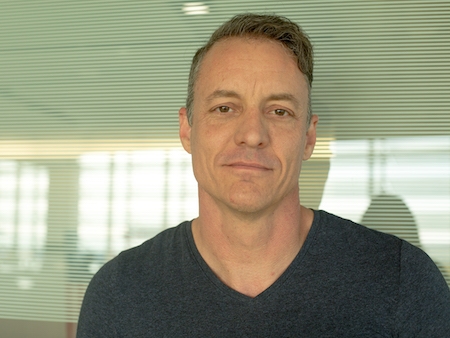 Professor LeRoy Westerling
But projections from Westerling and colleagues suggest that this may change. According to their models, Sierra Nevada forests will experience both a dramatic loss of stored carbon and a substantial decline in their ability to remove CO2 from the atmosphere.
Rising temperatures are creating a warmer, drier Sierra Nevada climate. Westerling previously showed that these changes are leading to dramatic increases in the frequency, size and duration of wildfires. The new study suggests that these same changes will make it harder for forests to regenerate, leading to a loss of forest density, with plants better suited to the new climate eventually replacing trees.
"As trees are displaced, the Sierra Nevada will lose its ability to sequester carbon," Westerling explained. "The plants that spring up in their place will be significantly smaller, making them less effective carbon sinks than the trees they replaced."
But the carbon stored in forest trees has to go somewhere.
As trees are burned in more frequent wildfires, and as dead trees undergo decomposition, Westerling and his colleagues predict that as much as 73 percent of the carbon in Sierra Nevada forests will be released, resulting in a dramatic spike in atmospheric carbon. This will transform the Sierra Nevada from a carbon sink into a carbon emitter, making the nature-as-polluter scenario a reality.
Westerling and his collaborators note that their predictions are actually conservative. The effects might be more extreme than their models suggest.
"Our study does not account for a number of factors that might influence the dynamics of forest carbon," Westerling said. "However, the factors we ignored are likely to accelerate the loss of forest. Our predictions likely underestimate the severity of actual effects."
Though the predictions are alarming, the authors remain optimistic, hopeful that their findings can contribute to a larger conversation about environmental policy and promote avenues of research that lead to sustainable forest management.