Green Blog
For a healthier family and environment, San Joaquin County homeowners can select a UC-qualified Green Gardener to take care of their lawns and landscapes.
Green Gardeners are landscape professionals who are trained and tested on up-to-date, environmentally friendly, science-based landscape practices.
"We're improving the knowledge and skill sets of workers who manage an enormous amount of urban acreage," said Karrie Reid, the UC Cooperative Extension horticulture advisor in San Joaquin County. "We're helping them understand that they have the power to effect change in water conservation, quality of storm water runoff, and the amount of pesticides that are in the environment."
To become qualified as a Green Gardener, participants attend classes eight weeknight evenings and two Saturday mornings. The first module addresses the importance of healthy soil for healthy landscapes. UC Cooperative Extension scientists provide training on soil building, pest control and green waste management. The second module focuses on mastering efficient irrigation and conducting an irrigation audit. The final sessions focus on plants in the California landscape, including turfgrass, trees and shrubs.
Because the Green Gardener program is partially funded by a dumping fee paid by residents to the county landfill, green waste management is a key component of the program.
"We have to reduce our green waste," Reid said. "Our urban soils are in need of organic matter. By building soil with green waste, we are solving two problems that inhibit our urban landscapes' sustainability."
Beginning with Module 1, the Green Gardener qualification program is being held for the fifth time Jan. 16 to March 12, 2018. The registration deadline is Jan. 12.
On the first day of an earlier session, a landscaper wondered aloud if the $90 fee and, particularly, the time commitment, would be worth it. "Well, I know the answer is that it was worth it," he said.
qualified UCCE Green Gardeners
.
One Green Gardener, Jacob Wilson, wrote to Reid about a visit to a customer's property after a four-week break and found the lawn was significantly greener.
"I asked the customer if she had her sprinklers repaired," Wilson said. "She said, 'No, my sister adjusted the water schedule to two or three times during the night with shorter watering duration each time instead of watering once; like you said.'"
As his customer made her way back to the house, Wilson said he was feeling more like a professional.
Home gardeners aren't the only ones who can take advantage of the program. Reid has reached out to landscape professionals working in the county parks department and school districts. There are landscapers who tend apartment complex landscapes, commercial building landscapes, street medians and highway rights-of-way.
"I successfully pitched the program to the Sherriff's Department for their grounds landscape personnel," Reid said.
For more information, visit the Green Gardener of San Joaquin County website at http://ucanr.edu/sites/GreenGardener.
'Tis the season for baking lots of tasty treats. Breads, cookies, cakes, and candy are just a few that come to mind. What makes many of these treats so tasty is the addition of almonds or walnuts to the list of ingredients.
In California, we are lucky to be at the center of almond and walnut production. According to the California Department of Food and Agriculture's (CDFA's) latest Agricultural Statistics Review, more than 99 percent of the almonds and walnuts produced in the United States are grown in California.
Almond and walnut growers work tirelessly to supply enough nuts to not only satisfy domestic demand, but also for export. Worldwide, almonds rank as the largest specialty crop export. California is the top almond producer in the world, accounting for about 80 percent of all almonds grown. For walnuts, California ranks as the second largest producer in the world. To keep up with this demand, almond and walnut growers must be constantly aware of pests, diseases, and abiotic problems that can affect the tree and growing nuts.
The University of California Statewide Integrated Pest Management Program (UC IPM) has recently published revised Pest Management Guidelines for almonds and walnuts, helping growers prevent and manage pest problems with the most up-to-date information.
Revisions in the Almond Pest Management Guidelines include:
A new section on bacterial spot, a new disease of almond in California found in the Sacramento and northern San Joaquin valleys
A renamed section on fruit russeting, revised from the old powdery mildew section
Significant revisions made to the management section of navel orangeworm, one of the major pests attacking California almonds
Improvements on how to do dormant spur sampling section with easier-to-understand information on monitoring and thresholds
Revisions in the Walnut Pest Management Guidelines include:
Updated information on the association between walnut twig beetle and thousand cankers disease
New sections for Botryosphaeria and Phomopsis cankers, branch wilt, and paradox canker
Significant changes to the walnut husk fly management section
Both the almond and walnut revised Pest Management Guidelines also include updated information on fungicide efficacy, weed management, and vertebrate management.
Authored by University of California specialists and advisors, the Pest Management Guidelines are UC's official guidelines for monitoring and managing pests in California crops. For more information on pest management in these or other crops, visit the UC IPM website.
Since the inception of the California Naturalist program in 2012, we have been committed to embracing inclusion in all its forms and creating an open, diverse, and equitable community. It is embedded in our mission to foster a diverse community of naturalists and promote stewardship of California's natural resources through education and service. With 10 bioregions and over 39 million people, California is a diverse state naturally and culturally, and we are striving to provide greater access for underserved populations to this new statewide education and service program.
There are several ways in which we're addressing this critical work. One approach is identifying gaps in who we're reaching so we can prioritize filling those gaps. Using GIS to integrate environment, health and socioeconomic data from Cal Enviroscreen, the program prioritizes gaps in our geographic coverage and areas with the most disadvantaged communities.
To reach these communities we are working to expand partnerships with community colleges and organizations offering workforce development. California Naturalist certification can be integrated into a college course and to engage students embarking on their careers or those learning new skills for a change in career or work. For example, Pasadena City College offers certification as a part of their field biology class. Students gain valuable hands-on experiences, build their resume, and make connections to the wider naturalist community.
We also work with institutions that focus on training young underserved adults. For instance, Mountains Recreation and Conservation Authority (MRCA) in Greater Los Angeles incorporated California Naturalist into "Bridge to Park Careers," a competitive 20-week training program that equipped young adults from urban areas with knowledge and multiple certifications needed to secure jobs as educators and naturalists with park agencies. We maintain this program partnership with nonprofit Community Nature Connection, who continues the educational programming previously conducted under MRCA.
Finally, scholarships are available in many locations to cover program fees for participants. To further increase scholarship opportunities, we are excited to announce our newest initiative, the California Naturalist Scholarship Fund. The fund will help break down barriers people face in accessing the program, off-set course participation costs, and ultimately build a more inclusive community of naturalists. In 2016, 29 percent of California Naturalist course participants and 21 percent of statewide conference attendees received a need-based scholarship to attend courses and training events.
2018 holds much promise for strengthening our commitment to inclusion. As we enter the holiday season and prepare for the new year, please consider giving the gift of knowledge and the spark of curiosity. Together we can help protect and preserve nature by engaging more Californians in stewardship, discovery, and action.
On the fifth anniversary of the United Nations' recognition of Dec. 5 as World Soils Day and just in time for the California Department of Food and Agriculture's awarding of $5.23 million in funding to promote the adoption of soil health conservation practices, the California's Healthy Soil Initiative celebrated its first ever California Healthy Soils Week.
For most, that might not sound like a holiday worthy of week-long festivities (a celebration style often reserved for birthdays), but to the passionate folks who've spent the last three years building the nation's leading climate-smart agricultural program, it marks the beginning of a new story of how California agriculture can contribute to feeding the world, saving water and cleaning our air, all while fighting climate change and buffering against its negative effects.
From Dec. 4 to 7, CDFA, in partnership with a broad swath of stakeholder groups ranging from state organizations to the private sector (Fibershed, including Community Alliance with Family Farmers, California Farm Bureau, CalCAN, CA Resource Conservation Districts, Roots of Change, and Fibershed, hosted a variety of panels, webinars, and tours to better demonstrate what soil health actually is, what it looks like, how to promote it, as well as barriers to adoption and on-farm challenges.
CDFA kicked off the week by unveiling a series of Healthy Soils Information Panels directly outside Governor Jerry Brown's office. The information panels included an Natural Resources Conservation Service-inspired infographic defining healthy soils as a dynamic interface of the four elements, containing approximately 45 percent minerals, 5 percent organics, 25 percent air, and 25 percent water and teeming with life on the order of 100 million to 1 billion individual bacteria per teaspoon. The next few banners featured the major benefits of healthy soils. Quite simply: More food. Less water-use. Cleaner air. Healthier planet. The last banner brings it all home with a case-study of all-star farmer, Jesse Sanchez, once honored in Washington, DC as a "Champion of Change."
Dec. 5 – the official World Soils Day – was jam packed, starting with a 9 a.m. webcast on Climate Smart Agriculture, followed by a legislative staff briefing led by CDFA Deputy Secretary Jenny Lester Moffitt, and a reception to celebrate the connection between soil and food by indulging in the fruits of California agriculture. The briefing included two discussion panels -- one that featured scientists including UC Cooperative Extension advisors Daniel Munk and Glenn McGourty, East Stanislaus Regional Conservation District agent Jeff Borum and Margaret Smither-Kopperl of the USDA-NRCS Plant Materials Center, and one that featured pioneering farmers, Rory Crowley of Niclaus Nut Company, Michael Crowell of Bar-Vee Dairy, and Bruce Rominger of Rominger Brother's Farms. The growers discussed the benefits and challenges of no-till farming, or conservation agriculture, on their own farms.
The next day turned a bit more hands-on, with California EPA and CalRecycle helping deliver bags of compost, along with educational materials to legislative offices and with tours taking legislators out into the field -- first to the Recology compost facility, and then to Sierra Orchards where some of that compost ends up.
Capping it all off, Southern California got looped into the festivities with a tour of the Urban Farm in Los Angeles and keeping in the urban food systems theme, Sacramento Food Policy Group and ReSoil Sac hosted one last panel and reception at Hot Italian, a local restaurant that sources seasonally fresh, California-grown ingredients and is committed to improving communities and the environment. And it's not just talk, these guys walk the walk with a worm-bin on site to help process their waste into a valuable resource for local growers.
Throughout the week, the message was clear: the California Healthy Soils Initiative is here to stay. And while it might take an internationally recognized holiday or a statewide weekly celebration to remind us, soils are the foundation of life, of agriculture, and their health is inextricably linked to that of our own. As Rory Crowley of Niclaus Nut company reminded us, "Every day is World Soil Day on the farm."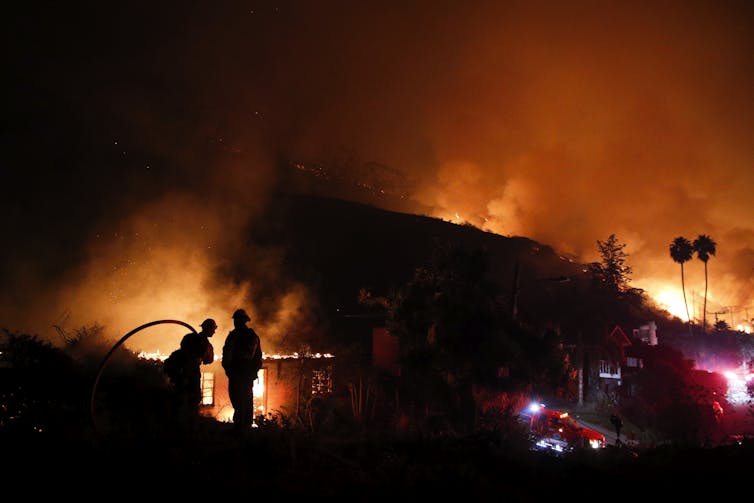 Faith Kearns, University of California, Division of Agriculture and Natural Resources
In the midst of the many wildfire emergencies that have faced California this year, it can often seem that the way houses burn, or don't, is random.
The thing is, though, it's not. Firefighters and researchers alike have a pretty solid understanding of why some houses are more vulnerable to wildfire than others. The real challenge ultimately lies in whether those with the power to act on that knowledge will do so.
Available science
It is commonly thought that it takes direct flame to spread a fire, but this isn't always the case. Small embers are instead often the culprits that begin house fires during wildfires. These small bits of burning debris can be lofted long distances by the wind. They can then end up igniting landscaping materials like combustible mulch, or enter homes through vulnerable spots – gutters teeming with debris, unscreened attic vents, open or broken windows, old roofs with missing shingles. Once there, the embers smolder and can ultimately catch a house on fire.
In California, iconic winds work to create ideal ember-driven ignition conditions. The Santa Ana winds in Southern California – known as the Diablo winds in northern part of the state – have generally followed fairly predictable seasonal and spatial patterns. "Red flag" fire warnings are often issued on dry days when the winds will be particularly fierce.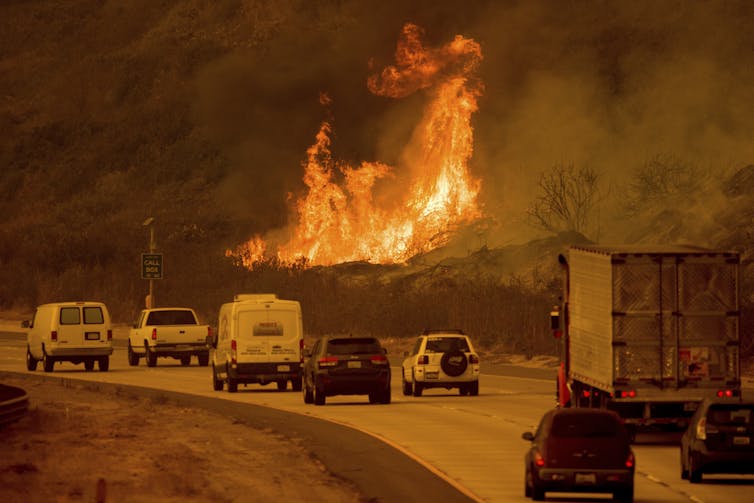 While humans can't really control as much as we'd like to believe when it comes to disasters, we do have the ability to control where and how we build. For decades, most wildfire education and enforcement campaigns have focused on creating so-called defensible space where landscaping vegetation is carefully selected and located on the property, as well as routinely maintained.
This is not enough, however. Officials in California – as in other fire-prone states – need to help homeowners, local governments and builders to understand there are also specific, science-based steps that can be taken to make structures themselves less vulnerable to fire.
Researchers recommend what is known as a "coupled approach" to home and building survival. This means the development and maintenance of an effective defensible space, as well as the careful selection of construction materials and correct installation to ensure that, for example, there are not gaps in siding or roofing that would allow embers to penetrate.
Decision-makers also need to be willing to take on the most taboo topic of them all: recognizing that there are places houses simply shouldn't be built, or rebuilt, at all.
(Not) too urban to burn
Earlier this year, California had the first strong winter rains after many years of drought. Now, after a typically dry summer, the state is experiencing a dry start to the rainy season, particularly in the south. At the same time, people have continued to build into places known to burn regularly. The result of this confluence of events has been fires deeply affecting many thousands of people up and down the state.
California residents are largely aware that not all fire is bad, and that many of our ecosystems thrive on regular fire. It's not something that we should, or ever could, hope to fully contain. Our only chance is learning, really and truly and finally learning, to live with it.
In that vein, the state must look long and hard at some of the steps that have been the hardest to take – not building in places that are particularly fire-prone and matching building codes with a modern understanding of wildfire risk – if there is to be any hope of alleviating the human suffering these fires cause.
We are being invited to free ourselves from the notion that wildfire destruction is random and unpredictable, and that therefore there is nothing to be done about it. As the fire season in California gets longer, the winds worsen and wildfires move into areas once deemed too urbanized to burn, maybe the knowledge about what makes houses burn can finally be put to good use.
Faith Kearns, Academic Coordinator, California Institute for Water Resources, University of California, Division of Agriculture and Natural Resources
This article was originally published on The Conversation. Read the original article.

/h2>/h2>/span>/span>